This beautiful hardcover book reveals the inner workings of 13 key vehicles from Episode VIII of the Star Wars™ saga, Star Wars: The Last Jedi. Each vehicle is shown as an intricately detailed, full-color cross-section artwork, complete with callouts to the important features of each ship. Clear, comprehensive text makes this an indispensable reference guide for the new craft in the Star Wars galaxy.
The 20 years since the release of the very first original trilogy focused Incredible Cross-Sections by David West Reynolds has seen this ever-growing series of books become more and more essential as the years go by. As reference manuals go, there's little to match them, and their detail and insight has been fascinating and invaluable for fans across the decades, through the prequels, the animated shows and now the sequel trilogy.
Artist Kemp Remillard, working in tandem with author Jason Fry, presents a lavish and insightful 48 page tour through the vehicles and vessels of The Last Jedi. There are size comparison charts, from the 60 kilometer wide Supremacy right down to the flimsy Canto Bight speeder and everything in-between, and to see these monstrous vessels including the Raddus and your standard First Order Star Destroyers sit above the Supremacy gives you the ful scale of this floating battle station.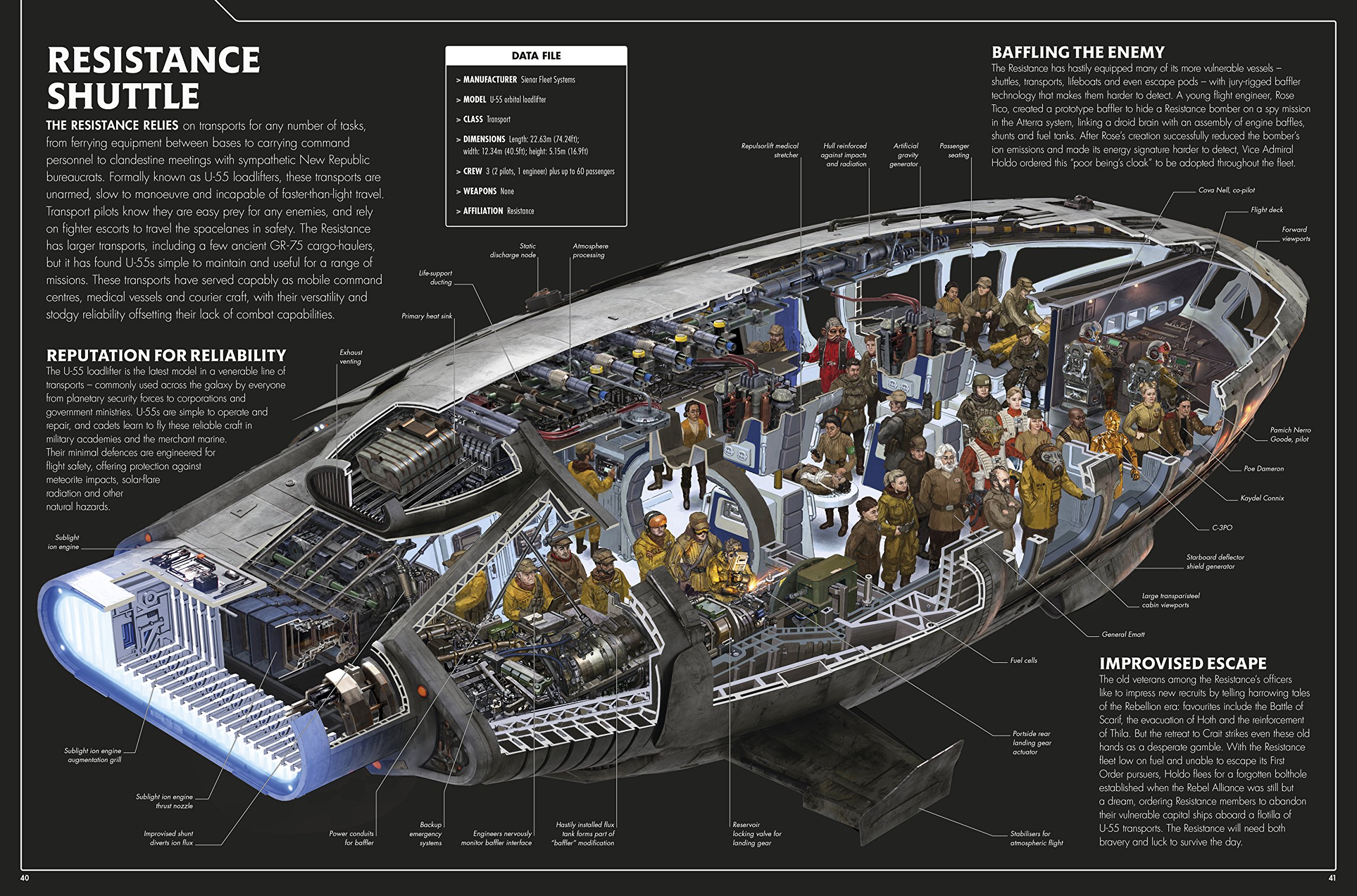 No matter what your focus might be, First Order or Resistance, there's plenty here to tuck in to. Interested in the vessels of the meagre Resistance fleet? That's here, with vehicle specs, lengths, manufacturers, number of weapons emplacements and crew personnel all mapped out.
It's a fantastic resource, not only for people wishing to know more about the worlds and vessels of The Last Jedi, but for budding games masters who might be seeking extra information to flesh out RPG scenarios. With the double-page spreads giving such great detail and information you could almost be forgiven for wishing they'd release them as posters.
Released alongside Pablo Hidalgo's The Last Jedi: The Visual Dictionary this is every bit as essential. The most pertinent elements of The Last Jedi are revealed between the two books and both are publications that you will find yourself coming back to again and again.
Thanks to the DK UK press office for the review copy.